Enlarge your Paris et les Magasins généraux publient la nouvelle édition du « Guide des Grands Parisiens », le seul guide culturel et touristique sur le Grand Paris – à paraître le 6 mai 2021.
Un guide pour découvrir le Grand Paris autrement à travers la culture, la nature, la micro-aventure ou encore la gastronomie... Un véritable voyage à travers le territoire grand-parisien illustré par 190 photos inédites du photographe Vincent Migrenne.
Pour la première fois, le guide paraît également en version anglaise « The Greater Paris Guide » et sera distribué dans les grandes métropoles européennes.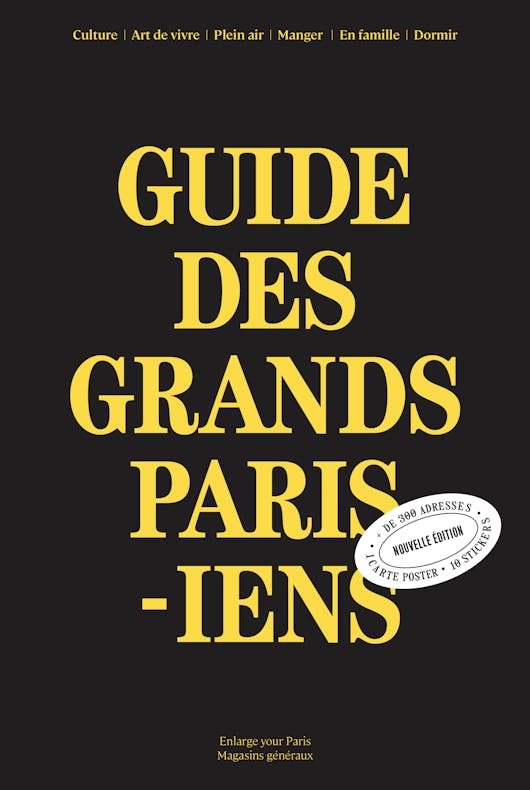 Le Guide des Grands Parisiens, un guide pour accompagner l'essor du tourisme de proximité
Parmi les nombreux bouleversements survenus ces douze derniers mois, le tourisme de proximité fait partie des tendances qui se sont affirmées, accentué par la limitation des 100 km autour de chez soi et les couvre-feux successifs.
Alors qu'en 2013 une étude menée par le Comité régional du tourisme Paris-Île-de-France montrait que 53% des Franciliens estimaient mal connaître les sites touristiques et de loisirs de la région, le Guide des Grands Parisiens vient leur offrir les clés pour s'approprier les richesses situées de part et d'autres du périphérique.

Le Grand Paris, tout le monde en parle. Mais le connaît-on vraiment ?
Sait-on que l'on y trouve des parcs plus grands que Central Park, des sites classés au patrimoine mondial de l'UNESCO, des galeries d'art en pleine rue, des forêts de la taille d'une ville et des friches culturelles qui n'ont rien à envier à Berlin ? Avec près de 1 200 lieux de spectacle, plus de 300 musées et centres d'art, 200 festivals, le Grand Paris dispose d'atouts souvent insoupçonnés des Grands Parisiens eux-mêmes.
Publié pour la première fois en 2018, le Guide des Grands Parisiens décentre le regard que l'on porte sur Paris en proposant une carte composée de « Grands Quartiers » sans distinction de frontières entre Paris intra et extra-muros.
Depuis huit ans, les journalistes d'Enlarge your Paris, média indépendant créé par Renaud Charles et Vianney Delourme, arpentent le Grand Paris pour en révéler les initiatives positives et mettre à la portée de toutes et tous les richesses du territoire, qu'il s'agisse des lieux culturels dans l'ombre des institutions parisiennes ou des espaces naturels pas toujours connus des habitants eux-mêmes. Pour le Guide des Grands Parisiens, ils ont puisé dans plus de 3000 de leurs reportages pour sélectionner environ 300 adresses dressant ainsi un portrait riche et inattendu de Paris et de la banlieue. Des adresses qu'ils ont pris soin de toutes revisiter et qui se racontent à travers une carte représentative des différents visages et paysages du Grand Paris.

Une nouvelle cartographie du Grand Paris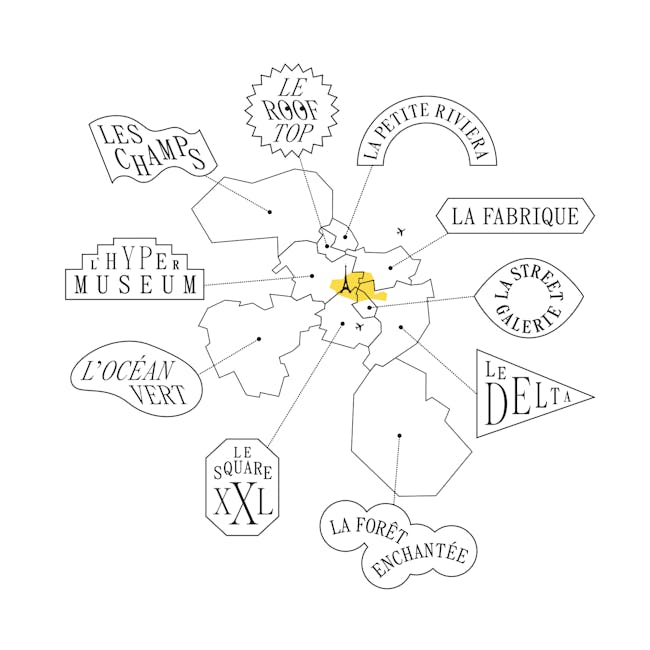 Le Grand Paris est une nouvelle histoire de Paris qui, jusqu'à maintenant se racontait comme une ville délimitée par le périphérique. Pour mieux gommer cette frontière physique et psychologique entre Paris et la banlieue, le guide présente une carte inédite du Grand Paris tel qu'il est perçu par ceux qui le vivent et le pratiquent. Elle se compose de dix « Grands Quartiers » aux noms évocateurs qui décentrent le regard que l'on porte sur Paris en s'affranchissant des frontières intra et extra-muros. À l'image d'une métropole décloisonnée, accessible, aux univers multiples.
Une carte qui évolue à l'image d'un territoire en construction et en constante évolution
Composée de huit Grands Quartiers dans la 1ère édition sortie en 2018, elle s'enrichie pour cette édition 2021-2023 de deux nouveaux : « Les Champs » et « La Forêt Enchantée ».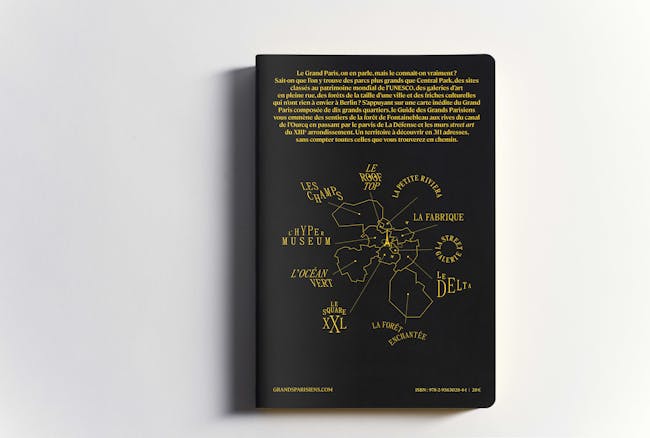 « Les Champs » – Un quartier qui présente les paysages du parc naturel du Vexin français rappelant ceux de la Normandie voisine et faisant aussi écho aux toiles des peintres paysagistes et impressionnistes qui s'y sont immergés à l'instar de Monet à Vétheuil, Pissarro à Pontoise et Van Gogh à Auvers-sur-Oise.
« La Forêt Enchantée » – Comme son nom l'indique ce quartier recouvre la forêt de Fontainebleau, avec ses paysages insoupçonnés et ses 500 km de sentiers balisés, mais aussi le parc naturel régional du Gâtinais français s'étendant sur 750 km2, soit sept fois Paris, et qui offre des vues panoramiques du haut des buttes du sentier des 25 bosses.
À présent, grâce au Guide des Grands Parisiens, vous irez donc tout naturellement randonner dans « La Forêt Enchantée », profiter des paysages champêtres de « L'Océan Vert » et des « Champs » mais aussi admirer des œuvres en pleine rue dans « La Street Galerie », faire le plein de culture dans « L'HyperMuseum » et goûter à l'esprit de liberté qui souffle sur « La Fabrique ».
Un vaste territoire à découvrir à travers de bonnes adresses classées par thématiques fonctionnelles et très intuitives : Culture, Art de vivre, Plein Air, Manger, En famille, Dormir – 311 adresses, dont 100 nouvelles, sans compter toutes celles que vous trouverez en chemin.
Une place toute particulière donnée à la photographie
Le Guide des Grands Parisiens 2021-2023 est illustré par le photographe Vincent Migrenne qui a parcouru en métro et à vélo les dix Grands Quartiers mis en lumière par le guide : de Fontainebleau, à Milly-la-Forêt, et de Versailles, à Saint-Rémy-lès-Chevreuse, il nous livre son regard à la fois poétique et graphique sur le Grand Paris à travers près de 190 photographies inédites.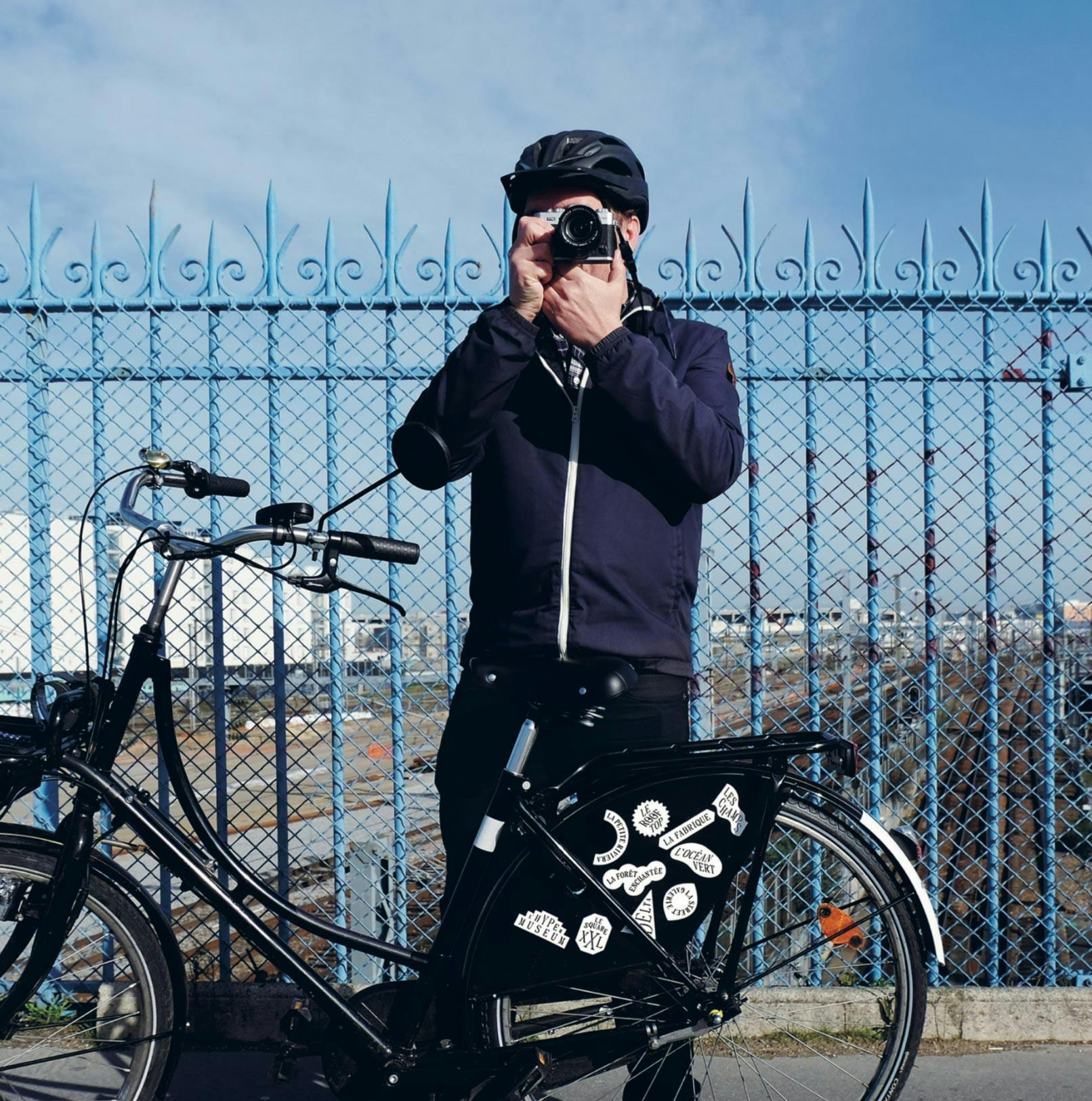 Les photos qu'il a réalisé pour le guide sont dans la continuité de son travail photographique qu'il mène au quotidien à travers des clichés colorés et reflétant le regard qu'il pose sur son environnement tel qu'il le voit : à la fois urbain et insolite.
Chacune des photographies du guide est accompagnée d'une légende souvent drôle et poétique écrite par ses soins.
Vincent Migrenne a récemment exposé au Center of Photography à New York dans le cadre de l'exposition « Global Images for Global Crisis ». Il a également exposé en 2019 à la Fisheye Gallery et en 2017 dans le métro parisien pour le concours « #photogRATPhie » parrainé par Magnum Photos.
Auteur : ENLARGE YOUR PARIS
Éditeur : MAGASINS GENERAUX EDITIONS
Dimensions : 145 mm (largeur) - 215 mm (hauteur) - 20 mm (épaisseur)
ISBN : 9782956302841

© Magasins Généraux